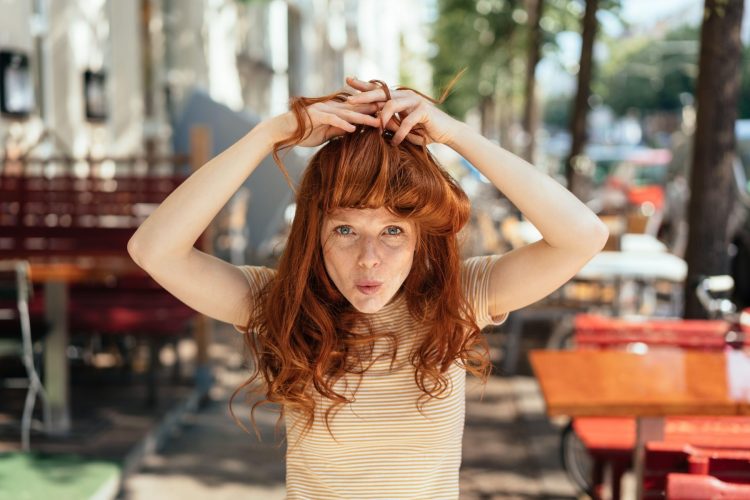 Foto: Ralf Cornesse / Alamy / Alamy / Profimedia
Jesen je idealno vreme za promene - umesto obećanja samima sebi koja je teško ispuniti, najlakše je otići kod frizera. Žene često novom frizurom označavaju novu etapu života, ili jednostavno samo žele da osveže izgled i izgledaju bolje. Pitali smo poznatog beogradskog frizera koje frizure će biti hit ove jeseni.
Dugo je ravna kosa bila apsolutna vladarka ulica, ali i frizerskih salona. Izgleda da se ove jeseni taj trend završava, kako nam je otkrio frizer Boban Ćirić, iz salona "Sotto sopra".
Ove jeseni dogodiće se zaokret ka praktičnosti, ali se istovremeno vraća i pomalo zaboravljeni detalj na kosi, od kojeg se činilo da su mnoge žene ipak odustale.
"Generalno, nadolazeći trend su kratke kose sa šiškama. Šiške su nešto što se definitivno vraća, i to u svim oblicima – kratke, punije, deblje, šire, asimetrične, kose – dakle šiške na sve moguće načine", govori nam frizer.
*
*
*
Šišanje na ravno postaće prošlost. Umesto toga, kako otkriva Boban Ćirić, nadolazeći stil frizure je što stepenastiji i rastresitiji oblik kose. Postaje ključan "uredno neuredni" izgled. Ukazao nam je na još jedan pomalo zapostavljeni trend.
"Polako se vraća volumen u frizuri", kaže on.
*
*
Takođe nam je ispričao najbolje stilove frizura u odnosu na dužinu kose.
"Kod kratkih i srednjih kosa gleda se da bude slobodniji vrat, sa istaknutim profilima, ali stepenasto i rastresito ošišani, bez ikakvog zaglađivanja. Ništa fino, nego malo više mladalačkije i lepršavije. Kada su paževi u pitanju, i dalje ostaju normalni ali sa šiškama. Za duže kose, moderni su naglašeniji stepeni, pogotovu u temenom delu, sa istaknutim profilima, takođe u kombinaciji sa šiškama. Nisu više aktuelne ravne kose, iako kod nas jesu. Ali to šišanje na ravno je već izašlo iz priče", govori za Nova.rs Ćirić.
*
*
*
*
Ukoliko ste ove jeseni želeli da promenite boju kose, beogradski frizer vam otkriva koje su najpoželjnije.
"I dalje ostaju senčenja aktuelna, kao i izrastak da se vidi, sa blagim prelazima. A ako su jači prelazi u pitanju, onda su oni u detaljima: u zonama oko lica ili iza ušiju, gde može da izbije neki širi, deblji pramen", kaže Boban Ćirić.
*
*
On ističe da se sve ove frizure lako nameštaju i u "sopstvenoj režiji", jer ne zahtevaju jaka feniranja, a i odlične su ukoliko se trudite da vam kosa bude što zdravija. Dovoljno je samo blago gužvanje i stilizovanje prstima nekim preparatom, naglašava frizer.
Najzad, ukoliko nam i ova jesen, kao što je to bilo proleće, bude obeležena ponovnim karantinom, koji će nas sprečiti da odemo frizeru, postoji rešenje: frizure koje možete napraviti sami, u vašem domu. Boban Ćirić predlaže neke ideje.
"Pletenice su i dalje aktuelne, razne vrste pletenica i repova. Takođe, uvijena kosa u blage punđice, ali ništa zategnuto, ništa previše precizno. Primer takve frizure je blago smotana španska punđa, koja može da bude pozadi, ili na vrhu glave, a mogu se praviti i dve sa strane simetrično. Ali, treba sve da visi i ispada, ništa precizno. Dakle, trend je mekoća", zaključuje frizer.
*
*
*
*
***
Bonus video:
Pratite nas i na društvenim mrežama: