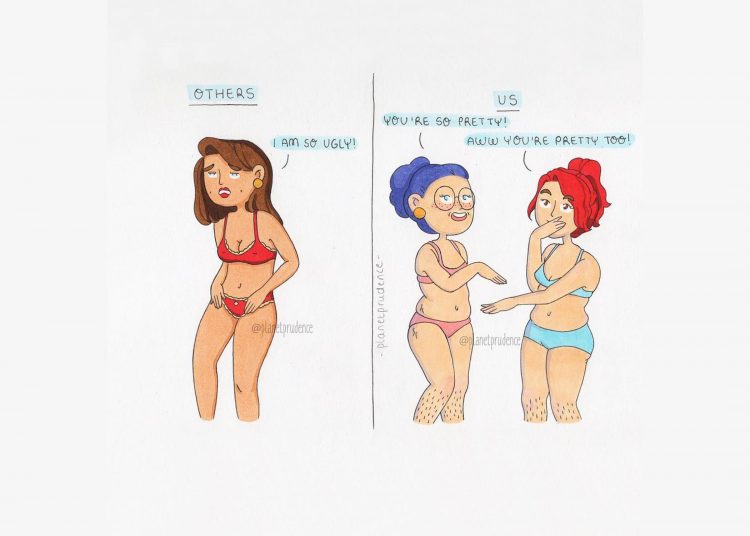 Foto:Instagram/planetprudence
Toliko u poslednje vreme slušamo o tome kako je važno voleti svoje telo onakvo kakvo jeste, kako se ne treba stideti ožiljaka, kako je svaki oblik grudi normalan i kako je surovo i glupo od sebe očekivati izgled isfotošopiranih lepotica Instagrama. Ipak, nije loše da nam neko s vremena na vreme ponovo to nacrta.
Prudens Girts je autorka knjige "Loša u odrastanju, dobra u feminizmu", a na Instagram profilu Planet Prudence pokušava da sve žene sveta kroz blesave ilustracije podseti da nisu jedine s određenim dilemama i nesigurnostima koje se tiču njihovog izgleda, navika, potreba, razmišljanja.
Pokušava da ih podseti da je ljubav prema sebi važnija od društvene prihvatljivosti.
I da im stavi do znanja da je sve kroz šta prolaze i s čime se suočavaju zapravo normalno.
To čini kroz spojeve ilustracija, od kojih jedna predstavlja ono što je "očekivano", "poželjno", "normalno", a druga – ono što je realno. Nema sumnje, svaka žena će se prepoznati, verovatno i nasmejati, a u najboljem slučaju još i više zavoleti svoje telo u svim njegovim "nesavršenostima".
Zdrav izgled i takođe zdrav izgled
Leto i zima
Ženske grudi u porno industriji i ženske grudi u realnosti
Tange: Očekivanje i stvarnost
Pre odmora i posle odmora
Intimna frizura: Seksi i takođe seksi
Kad ležim na leđima i kad ležim na boku
Normalan oblik grudi sa 65 godina i normalan oblik grudi s 25
Realnost i laž interneta
Stomak ujutru i stomak uveče
Normalna boja vagine
Pre i posle tuša
Dostojno Instagrama i – takođe dostojno Instagrama
Ista žena u akciji
***
Pratite nas i na društvenim mrežama: